Wrap-Around-Packers
Our 3 all-rounders: CompactLine, ModuLine, ContiFlex
With the A+F CompactLine butter packer, you can pack up to 150 wrapped butter packets in wrap-around cartons. Adaptable to other formats at any time.
With the A+F ModulLine cycle-controlled packer, you use one resource for all product grouping, loading and sealing tasks. Modular in design and individually adaptable.
With the A+F ContiFlex bottle packer, you handle up to 60 packs per minute. Simple format adjustment for carton line included.
---
CompactLine
Pack up to 150 wrapped butter blocks in wrap-around cartons using our newly developed A+F CompactLine butter packer.You want to change the format? Simply use the available format kits which allow a fast changeover of the machine. Single-row or double-row pack formats of different layer heights are thus possible at any time.
Incidentally: The A+F CompactLine can be connected to any wrapping machine of the mid-range performance class.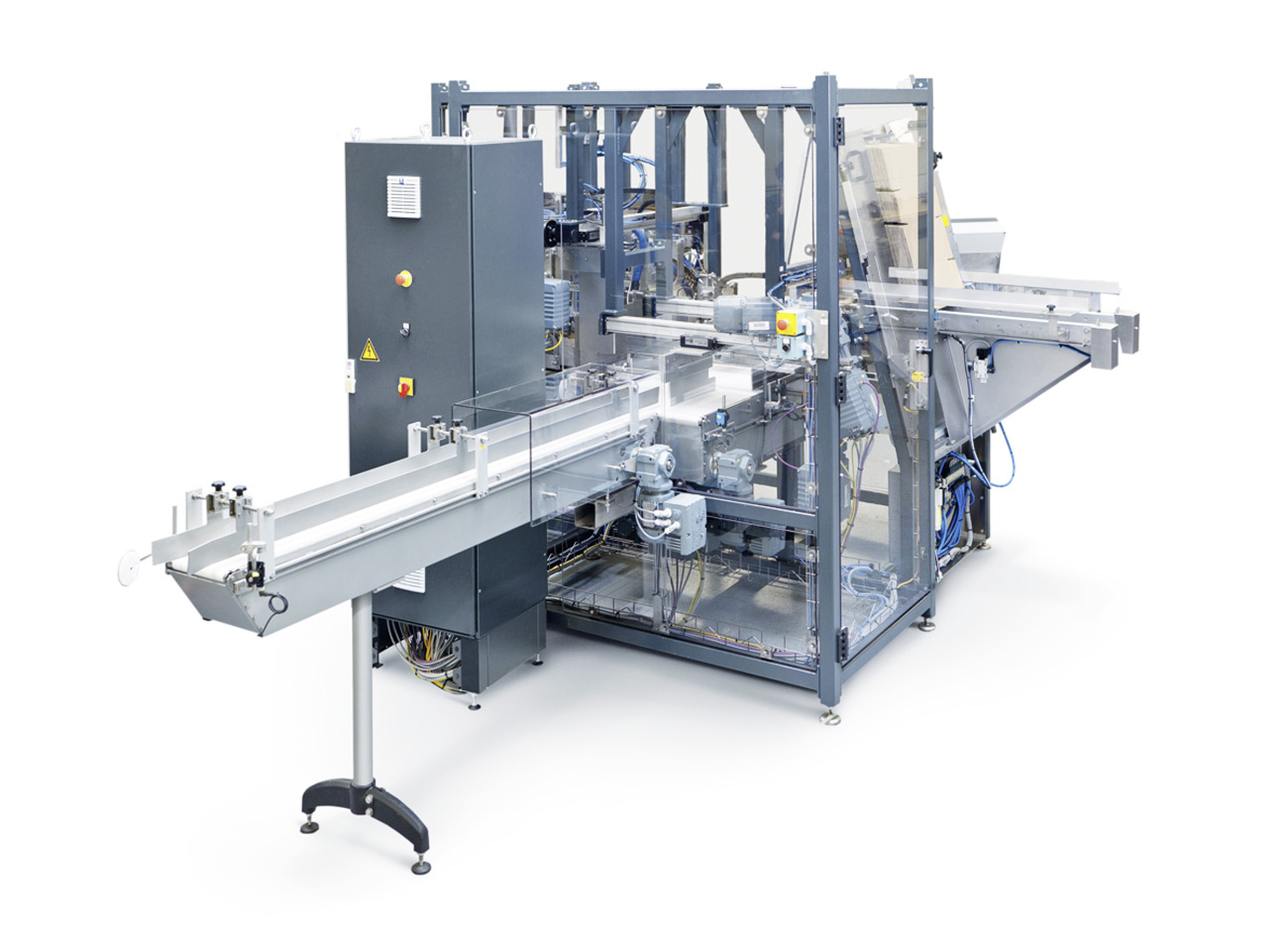 A+F CompactLine in detail
Benefits
---
Modular design
Simple operability
Space saving design
Short installation times
High availability
Technical details
---
Product supply rate: max. 150 products/min.
Performance: max. 10 cases/min., depending on product type and shape
Case size range: min. 230 × 100 × 64 mm (footprint L × W × H), max. 460 × 313 × 220 mm
Product size range: Packing in one row: min. 100 x 30 x 16 mm – max. 200 x 105 x 100 mm (L x W x H, wrapped butter packs)
Packing in two rows: min. 50 x 30 x 16 mm – max. 150 x 105 x 100 mm (L x W x H, wrapped butter packs)
Weight: 50 to 1000 g
Application
---
Open Trays
Wrap-Around Trays
Shoulder trays and Displays
Options
---
Connection to upstream wrapping machine
Conveying lines
Complete palletizing solutions
---
ModuLine
Handle all conceivable product and pack types using our universal packer A+F ModulLine. You are looking for a machine for all steps in the packaging process? Thanks to its modular design this packer can accomplish every task – collation into the desired packing configurations, loading into erected cases and any closing applications, all in one machine. With over 1000 installations worldwide and an output of up to 30 packs/minute the A+F ModulLine is the true classic among packaging machines.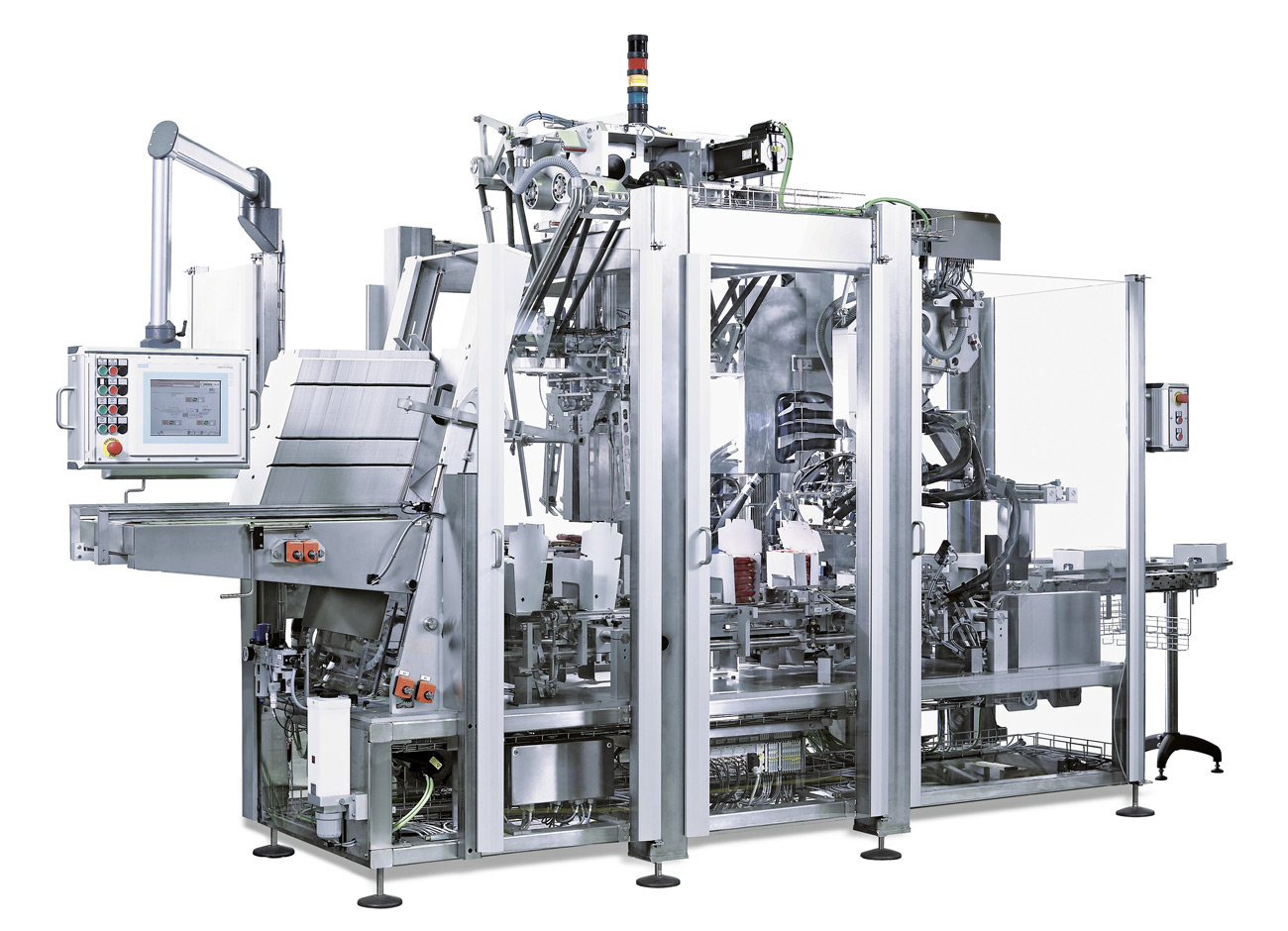 A+F ModuLine in detail
Benefits
---
Maximum flexibility coupled with high net production
Modular carton line and packable product grouping and modular packing cell in application-specific design with servo-driven pusher, 2-axis module or gantry module
Wide range of product types and pack types that can be processed - with single-row, multi-row, single- or multi-layer, upright, horizontal or stacked product grouping
Extremely compact design with a variety of set-up options (L, U, Z and mirrored designs) for optimisation of space requirements
Low production costs due to high-quality, low-maintenance design
High format and positioning accuracy
Ergonomic design for optimal operability and fast format changeover in less than 10 minutes
Technical details
---
Type of tray/case: open trays, wrap-around trays and cases, trays with attached or separate lids, shelf-ready display trays
Speed: Max. 30 trays/min – depending on products and package dimensions
Tray/case size: Infinitely adjustable
Length: 120 - 460 mm (standard) - max. 610 mm on request
Width: 90 - 300 mm (in transport direction) - max. 410 mm on request
Height: 80 - 300 mm
Applications
---
Packaging of butter, margarine and other edible fats
Packaging of yoghurt cups (single cups, cup set, multi-chamber cups)
Packaging of food in very small portions
Packaging of jars, bottles and cans
Packaging of small packages, e.g. tea, cereals, etc.
Packaging of beverage cartons and PET bottles
Packaging: open trays, wrap-around trays, trays with lids as well as display trays
Options
---
Carton line prepared for inserting perforated plates to fix cups
Exchange tools for TwinLine 2-axis robot or gantry module to enable fast format changeover
Connection of the ModuLine to upstream or downstream lines in an extremely compact configuration
Customised and application-specific configurations and technical solutions
Systems for detecting product contamination and rejection in terms of integrated quality assurance
Intelligent palletising solutions
---
ContiFlex Bottle Packer
Process up to 60 packs per minute with the A+F ContiFlex bottle packer. SYou want high format flexibility for the carton line? Our bottle packer enables really easy handling of open trays, wrap-around trays, trays with shoulder tabs or shoulder trays – and with an output-oriented product infeed and the option of connecting several filling lines. With its servomotor-driven movement, an integrated suction cup module with line tracking as well as the configuration for the wet area you can use this machine in dairies, in the food and beverage industry, and in many other sectors.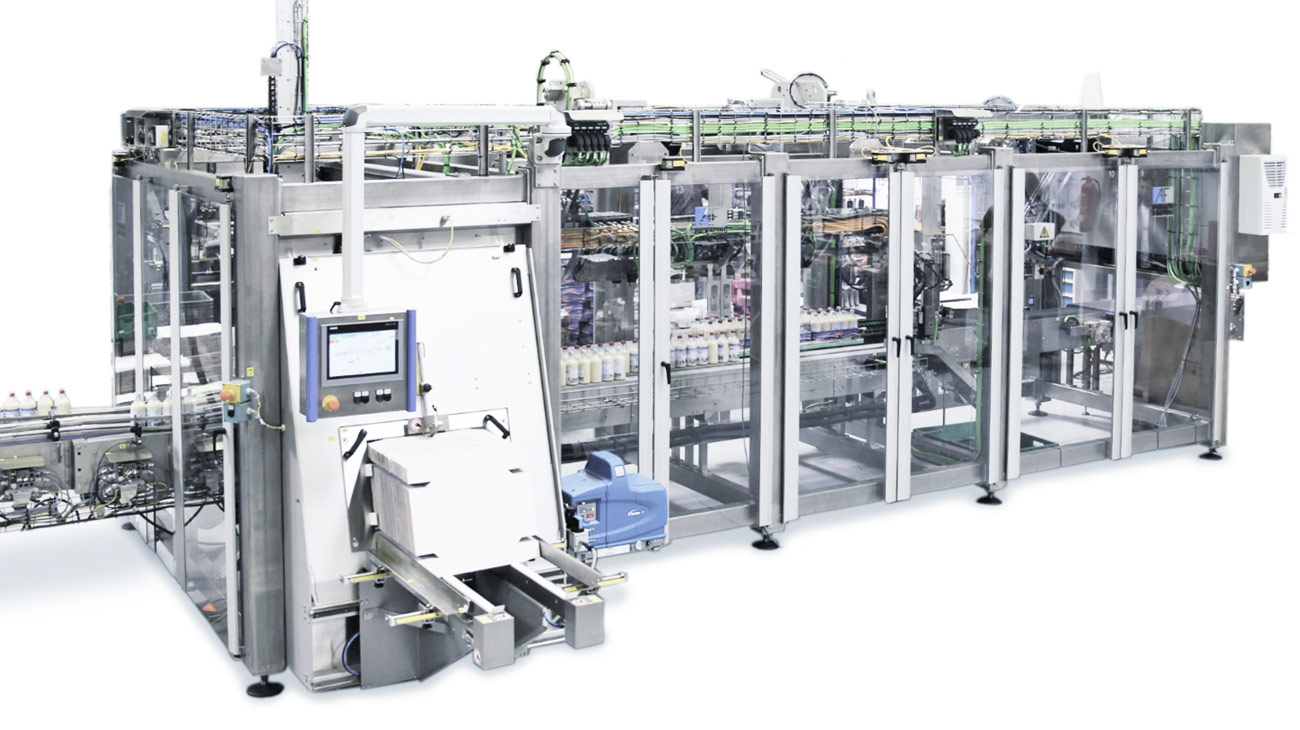 A+F ContiFlex in detail
Benefits
---
High output of up to 60 packs/minute and performance-based product infeed with optional connection of multiple filling lines to the ContiLine
High format flexibility of the case line enables processing of open trays, wrap-around trays, trays with shoulder flap or shoulder trays
Easy cleaning with cleaning media due to division into working and drive levels with low production costs due to high-quality, low-maintenance design
Ergonomic design for optimum operability and fast format changeover in less than 10 minutes
Jamless and guideless infeed
Technical details
---
Bottle type: Trays and wrap-around cartons, all standard market dimensions; 4- and 8-corner trays, various bottle shapes with bottle heights from 100 mm up to 222 mm without format parts / format changeover in the line
Capacity: 15,000 bottles / hour
Control: Schneider Electric
Schneider Electric servo motors with planetary gear or angular gear
SEW rotary motors
HMI Siemens TP 1200 Comfort
Applications
---
Trays
Wrap-Around trays
in all customary heights and shapes
Options
---
Connection to upstream and downstream systems
Customised and application-specific configurations and technical solutions
Marking systems
Systems for the detection of product contamination and rejection in terms of integrated quality assurance.
Intelligent palletising solutions
---
---