A+F Overall systems
From project planning to acceptance
The delivery of complete line concepts is an outstanding feature of A+F. Many years of experience in customer-specific line and plant planning as well as their implementation with installation and commissioning have shaped the company. For a wide range of industries, it is possible to plan and project the lines, the packaging lines or large parts of a plant. The product-specific requirements for the lines are taken into account.
The project planning of a line starts mainly with the filling machine, the subsequent primary product transport with buffer systems, the packaging machines including coding systems, the carton conveyors , the optional carton shrinking systems, the palletising systems, the empty and full pallet transport, the pallet wrapper as well as the pallet identification by labels and the transfer to the high-bay warehouse or similar. Today, a very important connecting element of the individual system components are the higher-level control systems or the connection to the customer's ERP system. Here, the primary data such as article number, BBD, batch number, quantities per carton or pallet are generated and forwarded to the packaging machines. Finally, all the necessary information must be available on the pallet label.
As a system integrator, A+F is able to connect the various interfaces.The integration of systems that cannot be manufactured by A+F is also part of the range of services.A+F offers complete lines, from consulting to project planning, from installation to commissioning, from integration to acceptance.
A short reference list of A+F customers, which also includes, for example, the following global players: Zott, Danone, Friesland Campina, Yoplait, Nestle, Unilever, Kerry Foods, Arla Foods, Conagra Foods, Kraft Foods, Kellogg`s, General Mills, Refresco, Tnuva, Ehrmann, Almarai, Müller Group, Tetra Pak, Develey, Green Mountain Coffee, Bauer, Morinaga, Leche Pascual
---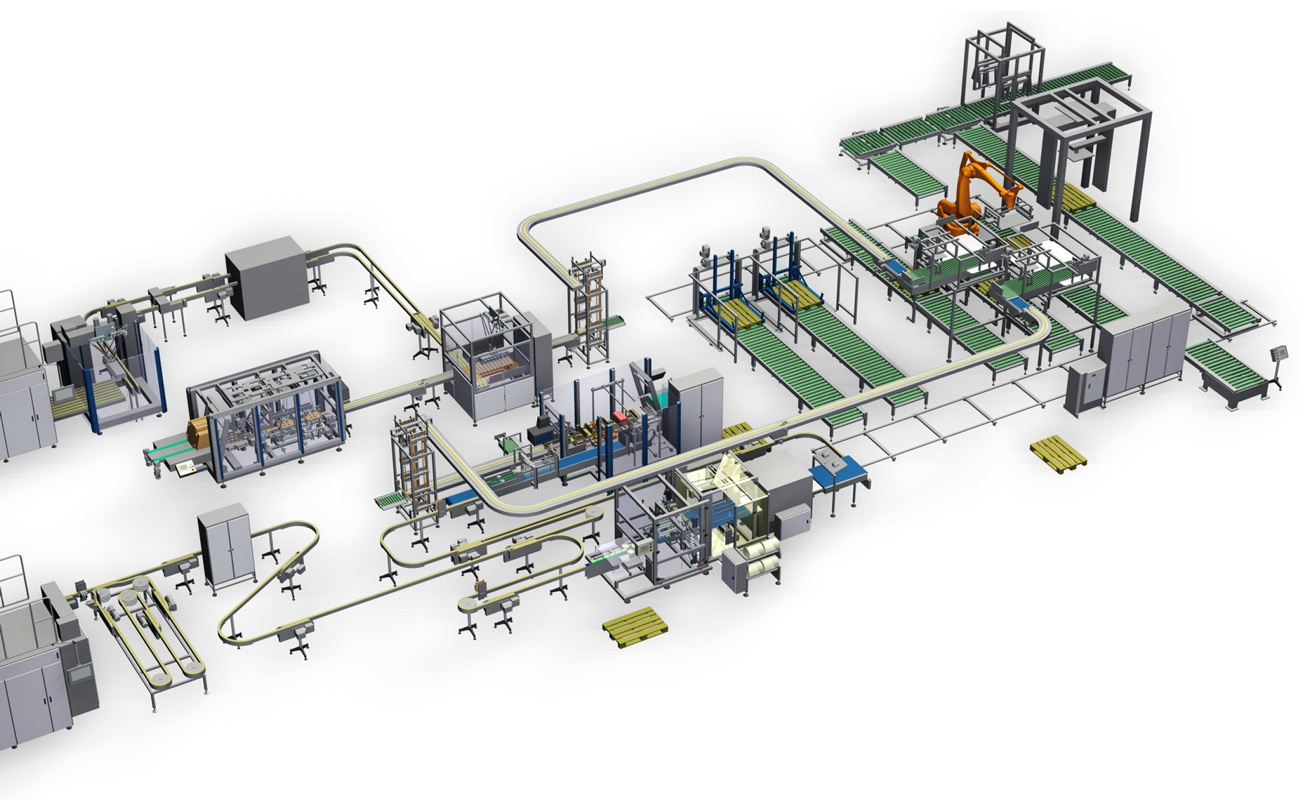 ---
Technical Performance Characteristics
The system planning includes consulting work and engineering of the production lines as well as providing the final offer.
The support includes extensive layout drawings as well as calculation of the machine speed and output, sleeving concepts, carton layouts, palletizing patterns, layer inserts and product sheets.
The extensive A+F product range includes traypackers, tray and case erectors, packing and sleeving systems, robot palletizers, layer plate palletizers, conveying systems for products, cases and pallets.
Additional purchases of system components are carefully selected and integrated. All are tested at the suppliers premises. Prior to delivery a final acceptance test is performed.
Customers can choose from a large variety of PLC control systems.
Experienced project managers are assigned to be the key contact for the customer during the lifetime of the project. He will manage all dates, sample materials and final test of the equipment amongst other things.
Key system components will be commissioned at A+F and an acceptance test is done with the customer.
Set up and commissioning at the customer's facilities is done or supervised by experienced A+F service technicians. At the end a final acceptance test is performed to complete the project.
---